Healthy Rice Cooker 4L
Includes Free Shipping (West Malaysia Only)
Special Features: Unique 4-step low starch cooking, easy preset program, large capacity
12 Preset Cooking Program
Height: 26.5 cm
Diameter: 28 cm
Capacity: 4L
Power: 700w
Warranty: 1 year
CRAZY PWP SPECIAL!
Tick the following checked box and get RM1.10 Rice Scoop, RM39 PAC2GO Sassy Collection each
La gourmet Silicon Rice Scoop NP: RM99
PAC2GO Sassy Collection 1.0L Round Lunch Box Turquoise NP: RM68.90
PAC2GO Sassy Collection 0.8L Rectangle Lunch Box Blue NP: RM69.90
Description
REDUCE SUGAR CONTENT IN RICE UP TO 37%!
12 PRESET COOKING PROGRAM
Low starch rice, brown rice, claypot rice, rice, braise, soup, porridge, slow cook, steam, yogurt, reheat, preset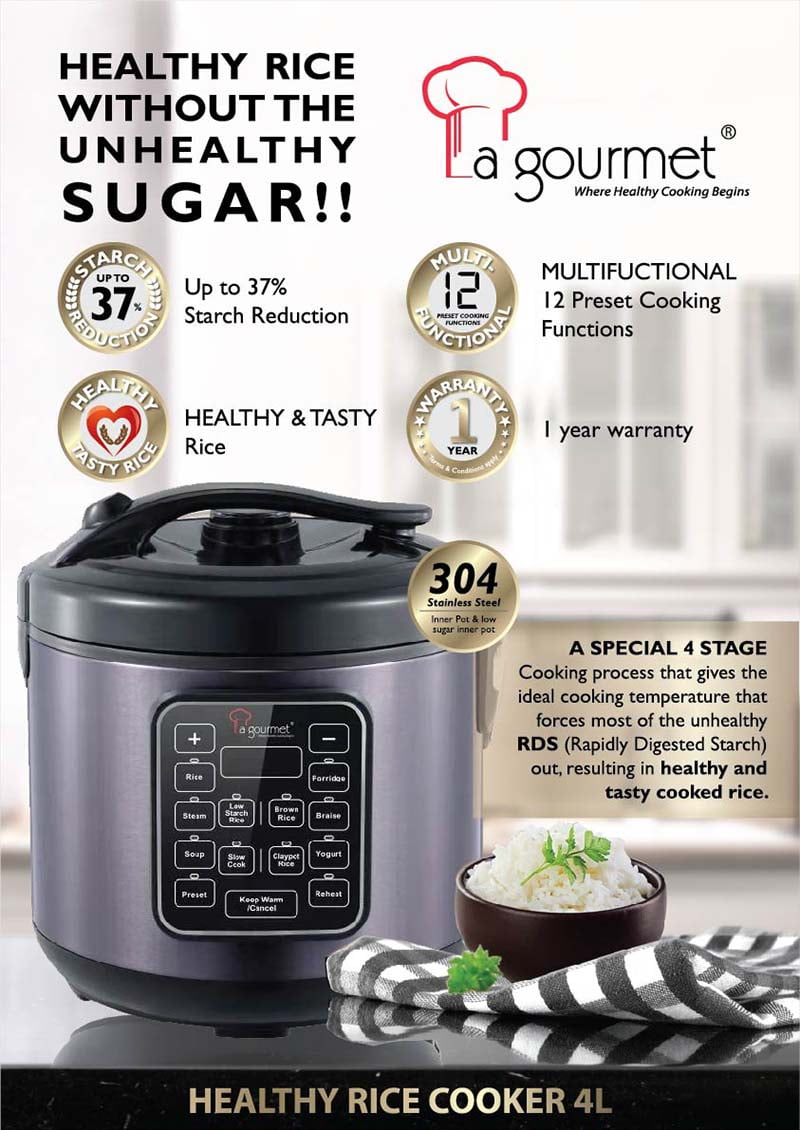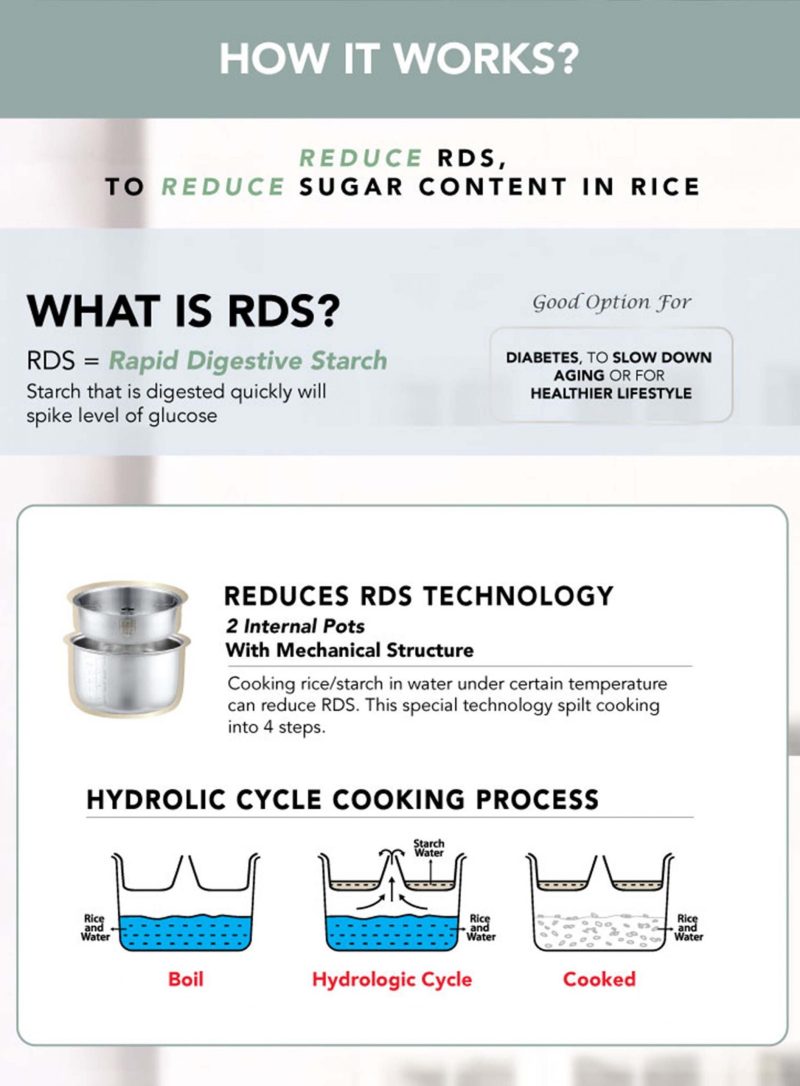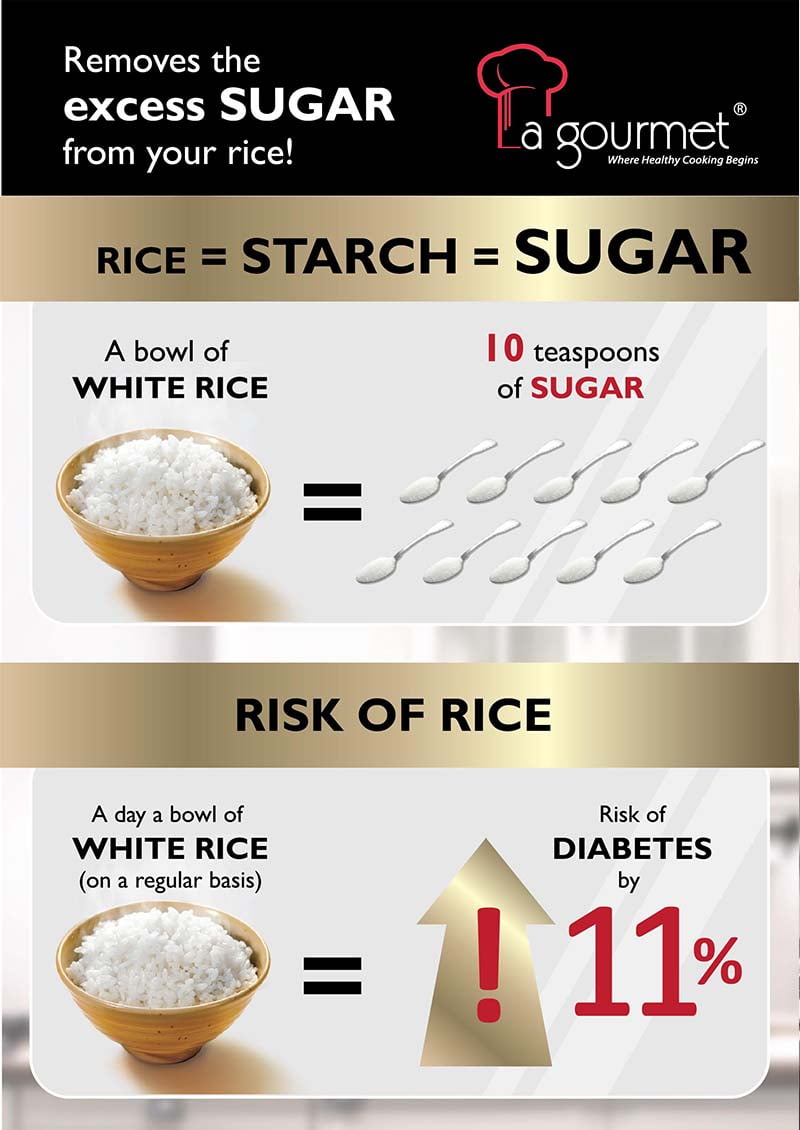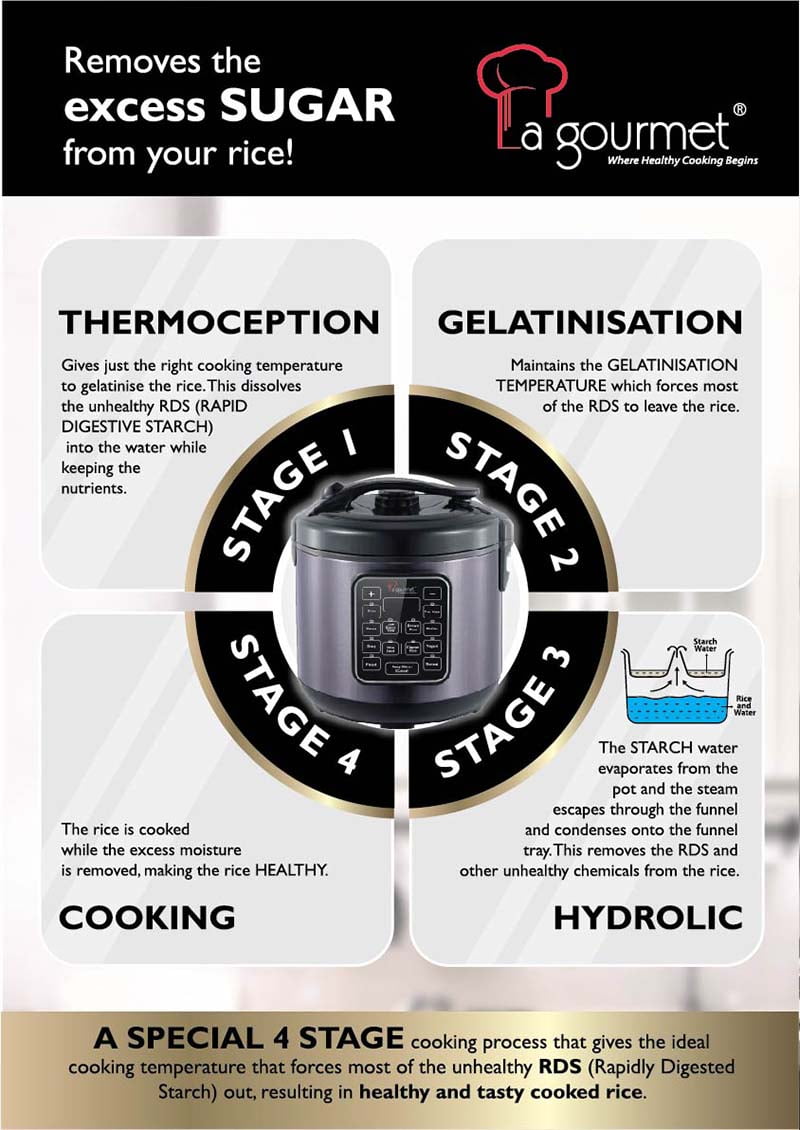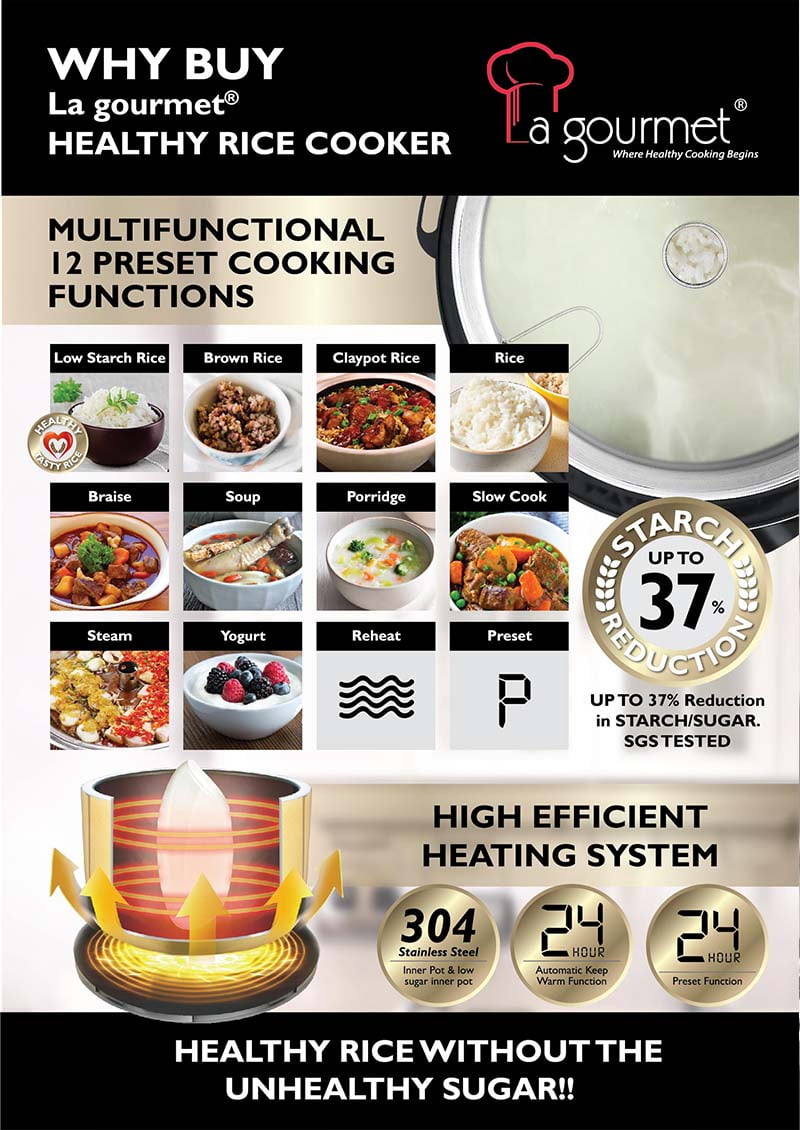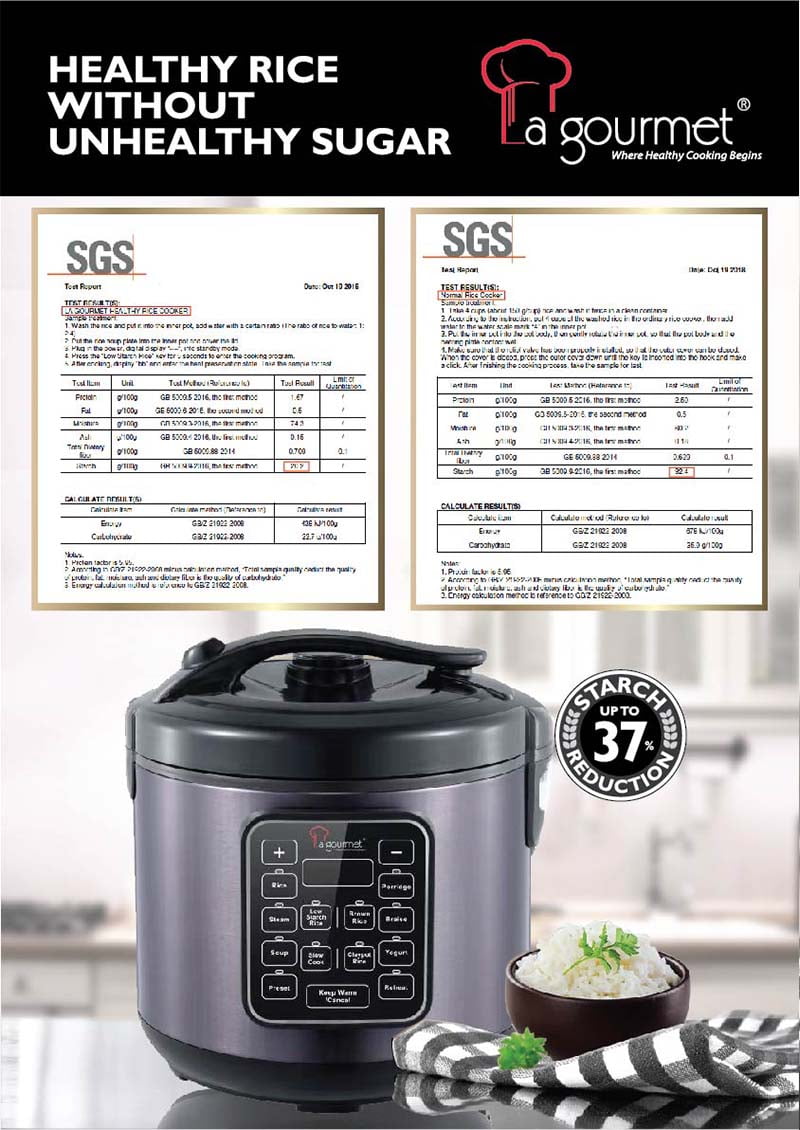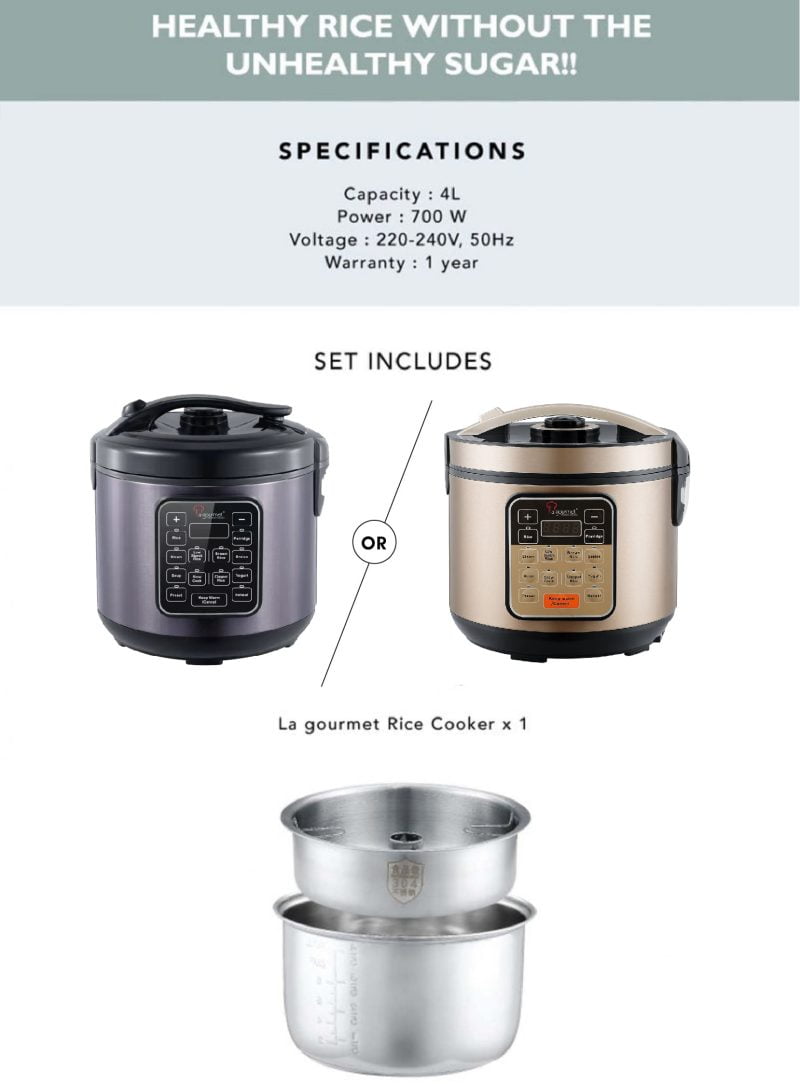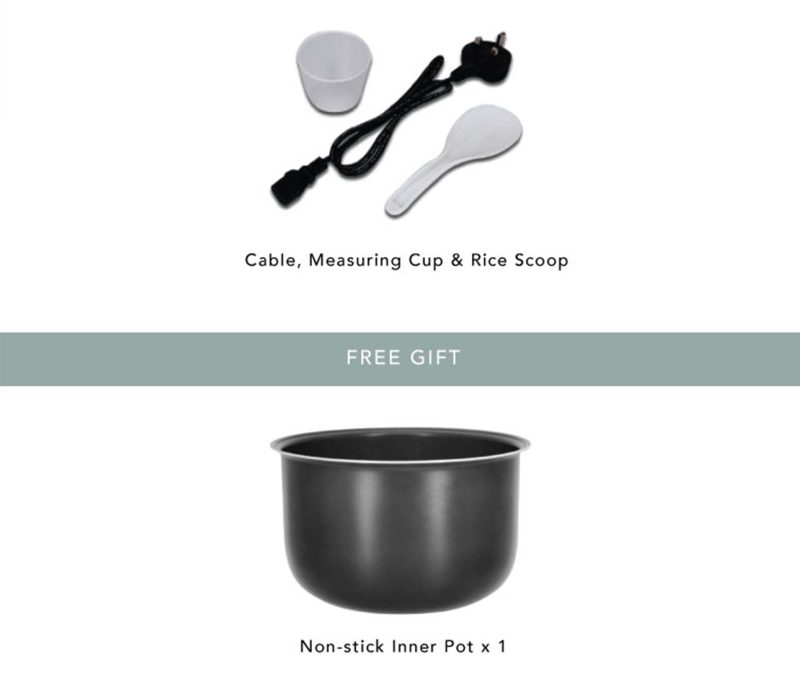 INNOVATIVE FEATURES:
– Advanced 4-stage low starch rice cooking option, that reduces sugar content up to 37%
• Stage 1 Thermoception: Gelatinise & dissolves Rapid Digestive Starch (RDS) into water
• Stage 2 Gelatinisation: Maintains at gelatinization temperature & forces most RPS out of your rice
• Stage 3 Hydrolic: Starchy water evaporates from pot through funnel and condenses onto tray
• Stage 4 Cooking: Cooking of rice while the excess starch is removed
– High efficient heating system
– Large capacity of 4L
– Easy operation with digital display & preset program
– Flexible adjustable cooking duration
– 24-Hours automatic keep warm function
– 24-Hours preset function
Included Accessories:
Rice cooker with 4L non-stick inner pot, 4L stainless steel pot with funnel tray, measuring cup & rice scoop.
Additional information
| | |
| --- | --- |
| Weight | 4.0 kg |
| Colour | Bronze, Dark Grey, Sold Out |