How to Choose an Electric Kettle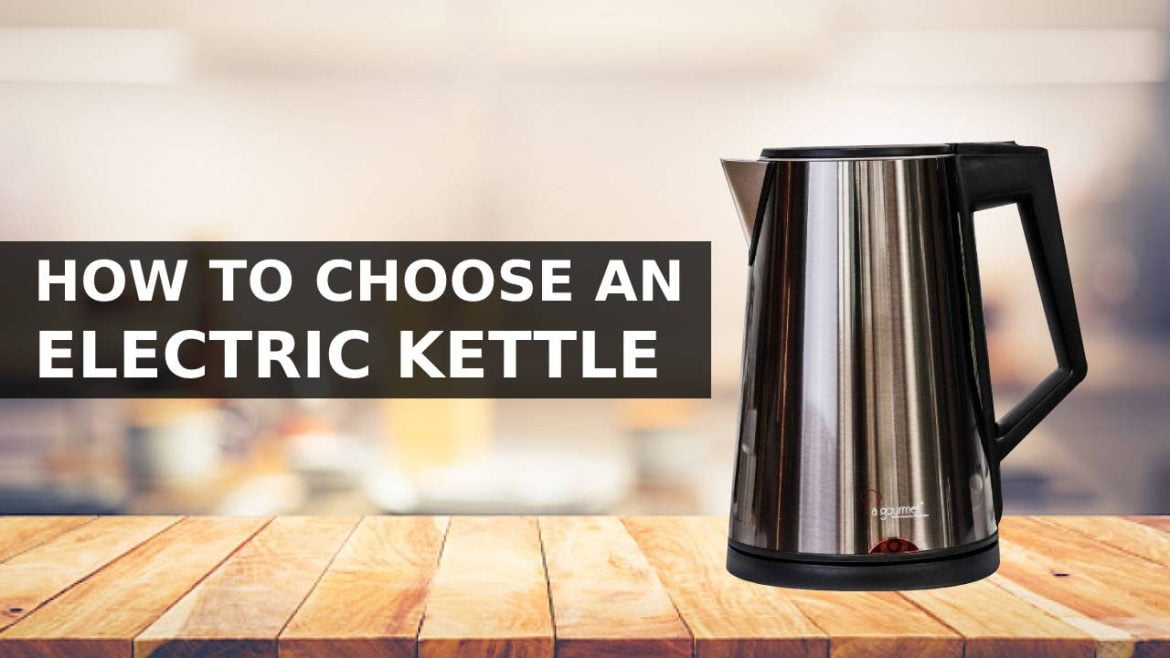 How to Choose an Electric Kettle
Nothing beats the good old way of preparing hot water for your beverage by boiling them in a kettle. Before setting your mind on the right kettle for your home or office, then, at that point, there are a few things to look at on how to choose an electric kettle that is the best for you. 
For the best kettle that checks all your basic needs, take a look at our kettle range!
Here's how to choose an electric kettle
Check out the boiling Speed
For a great many people that love to use the electric kettle, the ultimate reason for that is the speed at which the kettle can boil the water. That's because you want to have your hot tea or coffee quick. You don't want to be waiting in the queue by the water filter machine only to find that it ran out of hot water when it's your turn. In this case, choosing a fast boiling kettle should be the main priority.
Most electric kettles will take around the range of three to four minutes to boil the water, while some boast of having the option to warm a mug's worth in 90 seconds or less. Check the cases the manufacturer makes in the item information and give a look at the features of the kettle you consider to check whether what reviews point out those features.
Any electric kettle ought to be quicker than your microwave or boiling it on the stovetop. However, you have the option to pick between the look and feel of different models.
Here's something interesting to do – did you know you can boil an egg in a kettle? 
Look for Temperature Control Options
For tea experts, the speed of electric kettles likely could be a great additional feature to the principle benefit they offer: accuracy of temperature control.
Various kinds of tea taste best when heat up at various temperatures. So while heating up your water might turn out great for dark tea, it's not great for the kind of green, white, and oolong teas.
A temperature below the boiling point works great for coffee as well. Once more, for some purchasers, the distinction in flavour between espresso made with boiling water or espresso made with water at a marginally lower temperature may not be perceptible, yet the individuals who are specific about fermenting the ideal mug of espresso will see a distinction.
Some low priced tea kettles don't offer variable temperature settings, so in the event that this is an element that is critical to you, make certain to search for a kettle that permits you to choose various temperatures and make sure that the choices incorporate the temperatures you'll require.
Make sure the Size fits your use
You have two fundamental variables to consider with regard to measuring. The first is the capacity. Do you regularly make some espresso or tea for one, or would you say you are generally preparing drinks for a very long time? Most electric pots hold enough for a very long time, however, a few versatile choices have a more modest limit, so ensure you thoroughly consider your necessities and contrast them with the limit of the pots you consider prior to pursuing a decision.
The other significant size concern has to do with kitchen counter space. Each new thing you add to a kitchen needs to head off to someplace and most kitchens as of now have a restricted measure of counter space to work with. Before you purchase an electric pot, sort out where in your kitchen you'll keep it and take a few estimations. Better to be aware ahead of time of what you have space for than to purchase something that you can't squeeze into the accessible space.
Find one with an Appearance that matches your interior design
On the off chance that you're thinking about an electric kettle in Malaysia, you're most likely the sort of individual that means to utilize it frequently enough to keep it out on the counter full time. That being the situation, you really should like how it looks sufficient that it's anything but a blemish each time you go in the kitchen.
While electric pots are for the most part intended to focus on being practical over appearance, many models are made to look great as well as function admirably. On the off chance that style makes a difference to you, invest some energy perusing to get a decent vibe for your choices and sort out what kind of look you believe your pot should have.
Check out the features that offer Convenience
As a general rule, electric kettles are not difficult to utilize. That is one of their large selling focuses. However, some have highlights or plan choices that can make them simpler to use than others.
On the off chance that your need in purchasing a teapot is easy to use and speedy, you might find a basic barebones unit without various temperature settings and elements less complex to sort out than some better quality machines. Assuming you really do like those additional choices that accompany better quality machines, then you need to ensure you pick a model that makes choosing the temperature you lean toward simple to do.
An electric kettle that is either cordless or has a separable rope will commonly be more straightforward to use than one you need to hold near an outlet each time you use it. Also, a kettle with helpful elements like a keep-warm choice and auto-shutoff will guarantee even the most forgetful customers don't need to stress over remembering to turn off the kettle.
Surface Heat Of The Kettle
On the off chance that you have a lot of involvement in customary burner pots, you're possibly acquainted with how hot they get to the touch on both the handle and the beyond the pot. Electric adaptations of the kettle aren't insusceptible to this issue, however, some keep heat away from outside better compared to other models.
To understand the experience of using your electric kettle of choice, do probe around to check out what individuals say about it. A kettle that is made of glass or plastic is probably going to toll preferable in such a manner over one that utilizes metal (albeit metal pots offer different advantages). Though we don't recommend plastic kettles.
Noise 
While electric kettles aren't quite as boisterous as some kitchen apparatuses, they in all actuality do in any case make a few noises while heating up the water and many incorporate signalling clamours to tell you when your water is done too. The two sorts of commotion can get irritating to some people, especially the blaring assuming that it happens for a really long time or there's not a simple method for switching it off. Knowing about this feature is essential to avoid getting a kettle that potentially annoys you. 
Strength
For an item that has electric parts, strength ought to be a worry. You would rather not burn through cash on an electric kettle that main endures you a year, you need to have the option to utilize and enjoy the value in your purchase for a very long time.
One thing to look out for is a warranty from the manufacturer. Brands that back their items with guarantees show that they trust the items to endure and will remain behind that trust.
Furthermore, obviously, probably the most ideal way to see whether an item is made to endure before you purchase is to see what individuals who have proactively gotten it say. A client that purchases an electric kettle that endures under a year is probably going to return and tell different clients about it in a review.
Material
Electric pots are most frequently made with metal, glass, plastic or a mix of those three materials. Hardened steel and glass are generally viewed as greater than plastic, albeit plastic will not get as hot to the touch as the other two and can make for additional lightweight pots that are more straightforward to go with. Assuming the piece of the pot the water contacts is made of plastic, however, it's conceivable that it might impact the kind of your espresso or tea.
Stainless steel is viewed as the best material for sturdiness. What're more, electric kettles that utilise glass are frequently well known with individuals who favour feeling and like having the option to watch the water boils.
So, which materials to focus on in your electric pot search relies upon your own inclinations.
Weight
Assuming your electric kettle will generally sit on your counter and seldom be moved around, then, at that point, weight may not be a major thought for you. If you have any desire to have the option to handily take it with you when you travel, or on the other hand assuming you realize you struggle with lifting a full pot to pour, then, at that point, you ought to search for an electric kettle that is sufficiently lightweight to be great for your practicality.
Most pots will have the weight remembered for the item specs so you can undoubtedly think about your choices in this classification.
Features and Extras:
Auto Shutoff — We all neglect to switch machines off now and again. An electric pot that incorporates an auto-shutoff component will ensure you don't squander energy by switching the pot off after a brief time frame on the off chance that you forgot about it.
Base Cord Storage — Cords have an unpleasant propensity to constantly disrupt the general flow. Base string stockpiling guarantees you possibly need to manage the pot's line when you really want.
Cordless (or separable string) — A pot that is cordless or has a separable line will commonly be more straightforward to utilize and store.
Water measure — A noticeable water measure will help you all the more effectively stay aware of how much water's in your pot at some random time.
Keep Warm Feature — Have you at any point had your pot go off right when you were really busy accomplishing something significant? An electric pot with this component will keep the water warm for you until you're ready to hit it up to pour your beverage.