Homemade Healthy Poached Pears Without Wine Recipe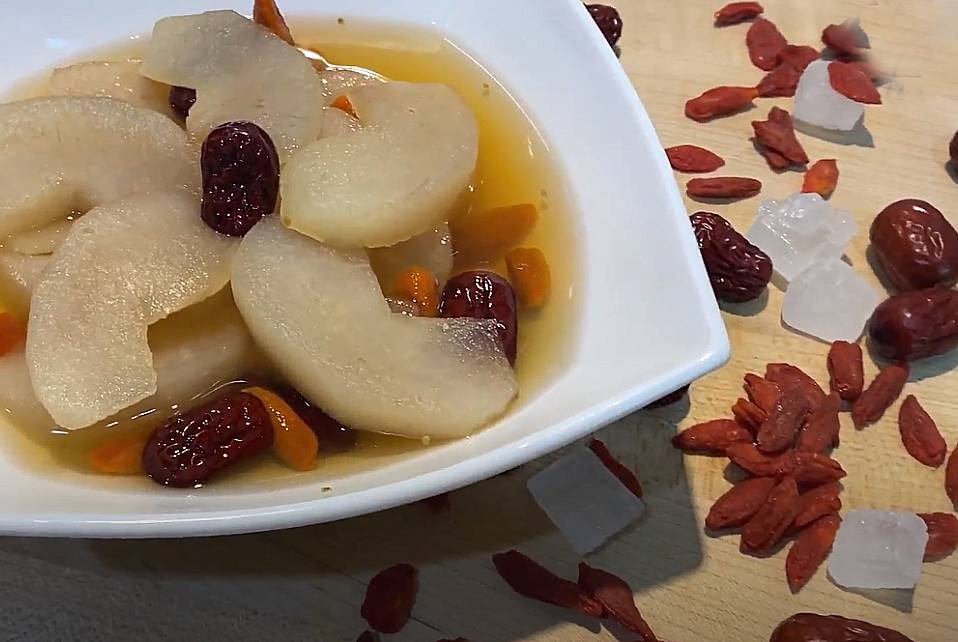 Poached pears without wine make the ideal winter warmer as they're soothing, look marvellous and take no time by any stretch of the imagination to get ready. In this technique for delicate, burner cooking, the pears are gradually stewed with a wide range of syrups and flavours to draw out their sensitive and particular flavours. What makes them shockingly better is that you can serve them any way you need.
Poaching in every day alludes to slow cooking in an enormous volume of stewing fluid. It's a similar standard as poaching eggs, where eggs are dropped in a huge volume of nearly bubbling water to cook them. Poaching is a delicate method of cooking.
The key is to recollect that the more drawn out the pears sit in the flavourful syrup in the wake of poaching, the better they'll taste – making this an ideal choice for the individuals who like to prepare. The organic product becomes delicate, lessens down and retains the perfectly focused kind of fluid.
Here's how to make Poached Pears Without Wine Recipe with La gourmet Double Boiler
Ingredients
Korean pear 1 nos
Rock sugar 1 to 2 tsp
Goji berry 1 tsp
Red dates 6 nos
Water quarter cup
Instructions
1. Fill the casserole pot with water, then allow water to boil.
2. Then, place the steamer insert on top.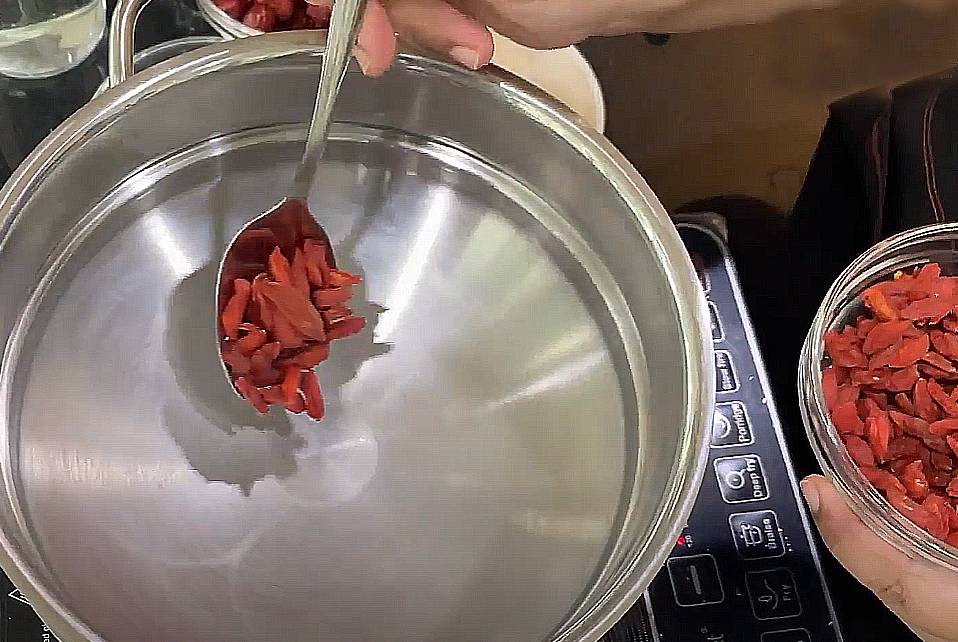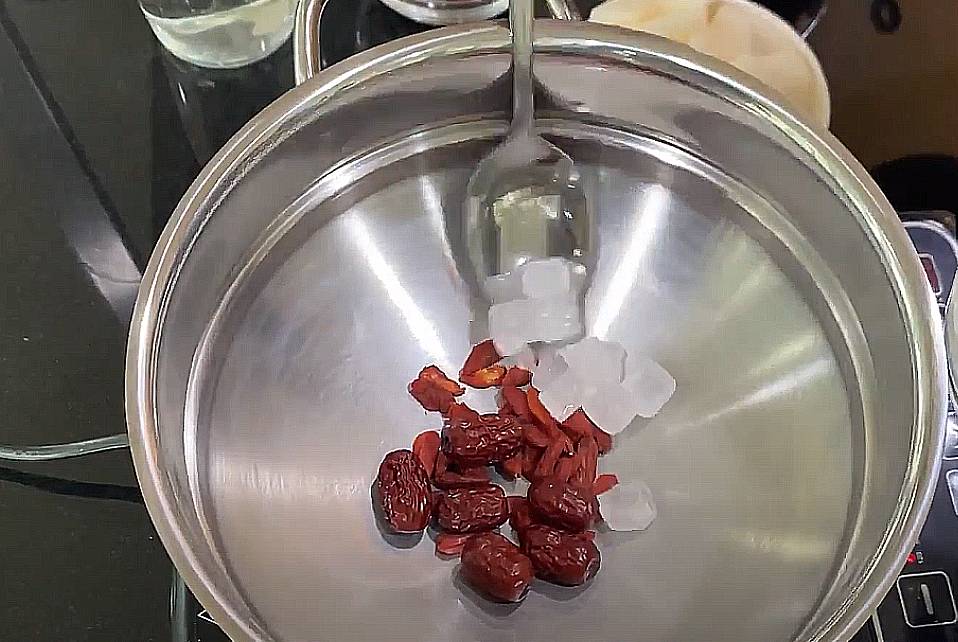 3. Fill the steamer with all the ingredients.
Goji berries are to a greater degree a nonpartisan, neither heaty nor cooling, as it's an extraordinary expansion to regular cooking. Rock sugar is exceptionally normal in Asian cooking too as sugar. It is well, sugar! However, it is in gem structure or comes in huge lumps. It's fun to eat it just like that as candy.
The proportion of poaching syrup is typically 1 section sugar to 2 sections fluid. In the event that you want to make more syrup, basically, increment the amount.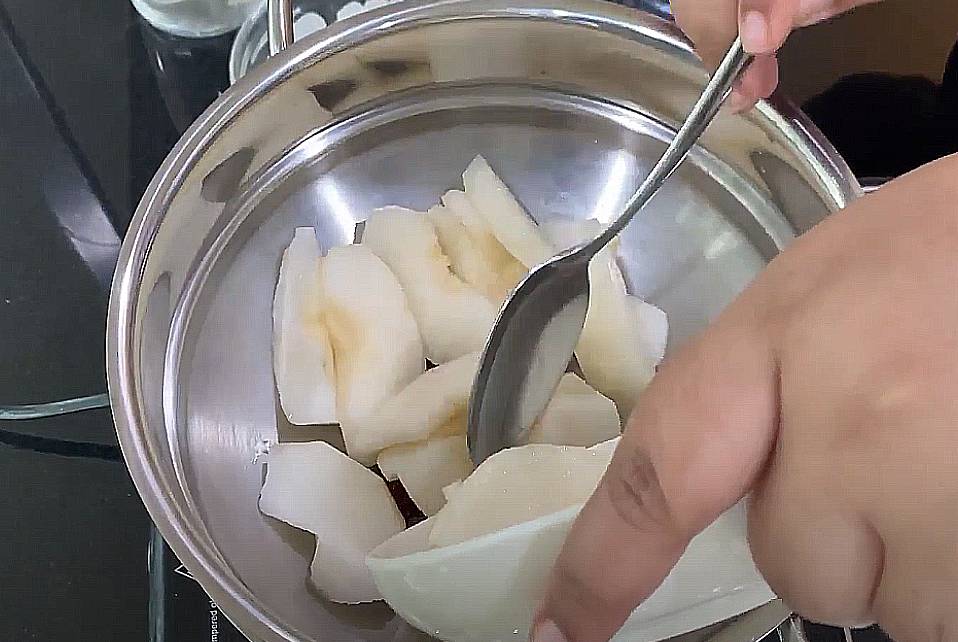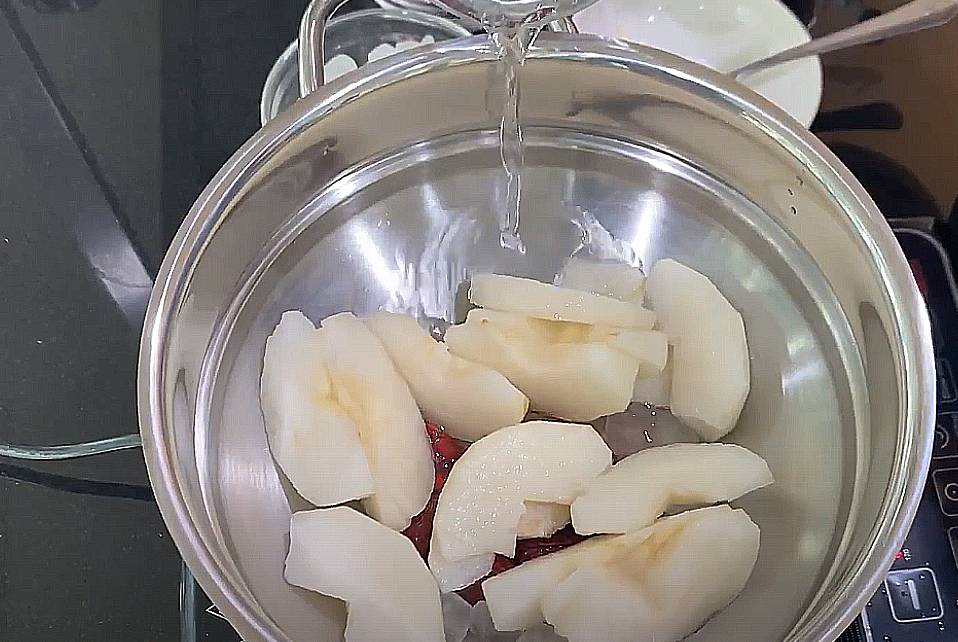 4. Next step on poached pears without wine recipe, cover with a glass lid, and allow the ingredients to cook.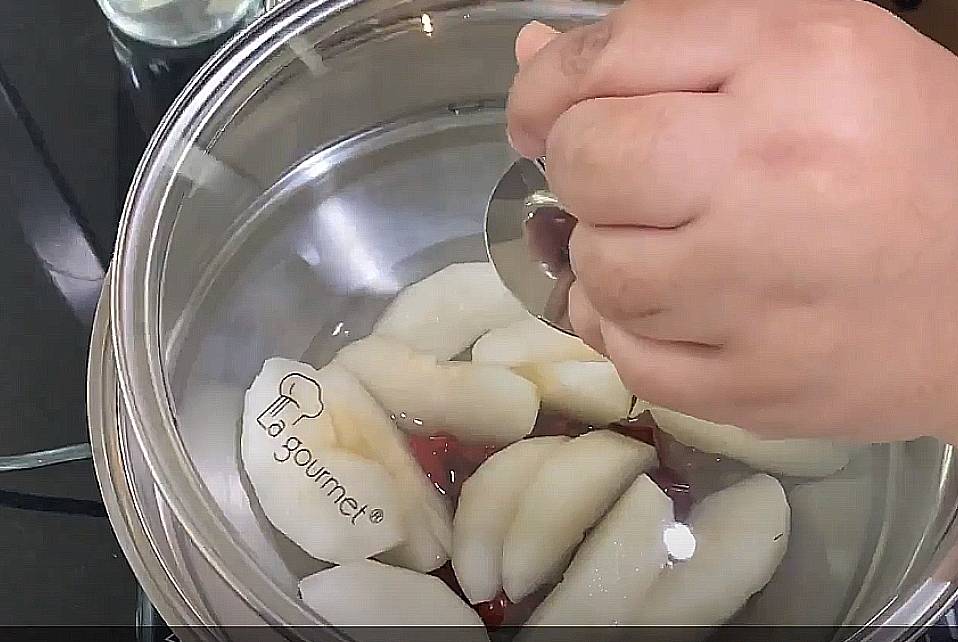 5. Poach pear until tender. You can test if it's tender by gently poking pears with a paring knife. If the pear doesn't feel hard to poke, then they are done.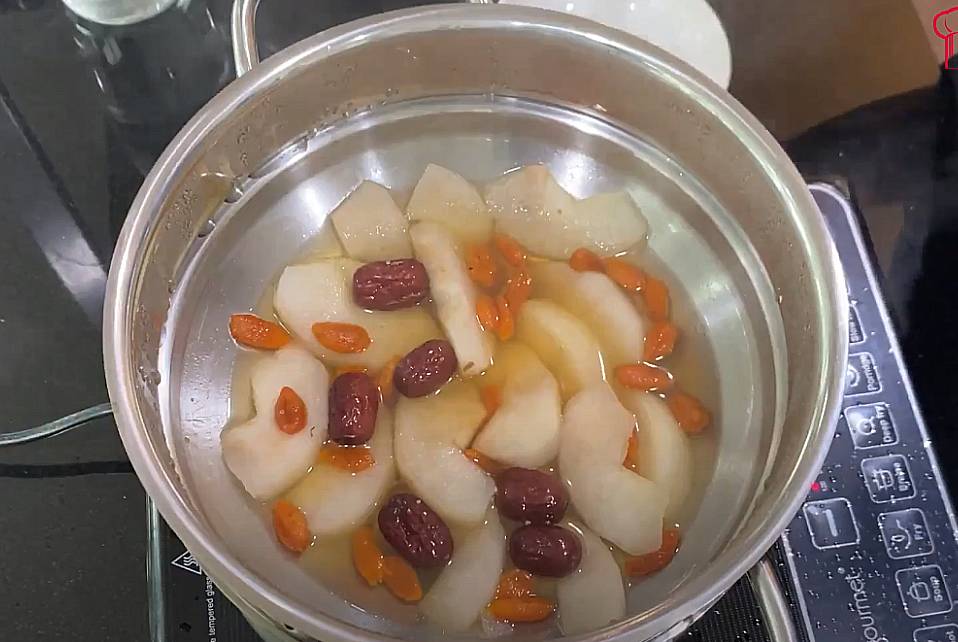 6. Once the pear is tender, gently transfer the poached pear and poaching liquid using a spoon. If necessary, strain the poaching liquid into a separate bowl. Remove all the spices and excess ingredients.
Cook the liquid by itself again until it's more syrupy in nature. This will concentrate the flavour and makes a better tasting syrup to accompany your poached pear later during consumption.
You may want the liquid to submerge the pears. The pears may float up, so you may want to use a small bowl so that they stay immersed.
7. This poached pears without wine dessert is ready to be served! Make it look more festive with a bit of lime zest or serve with a  bunch of freshly picked pomeranate seeds. You can also chill it in the fridge for later.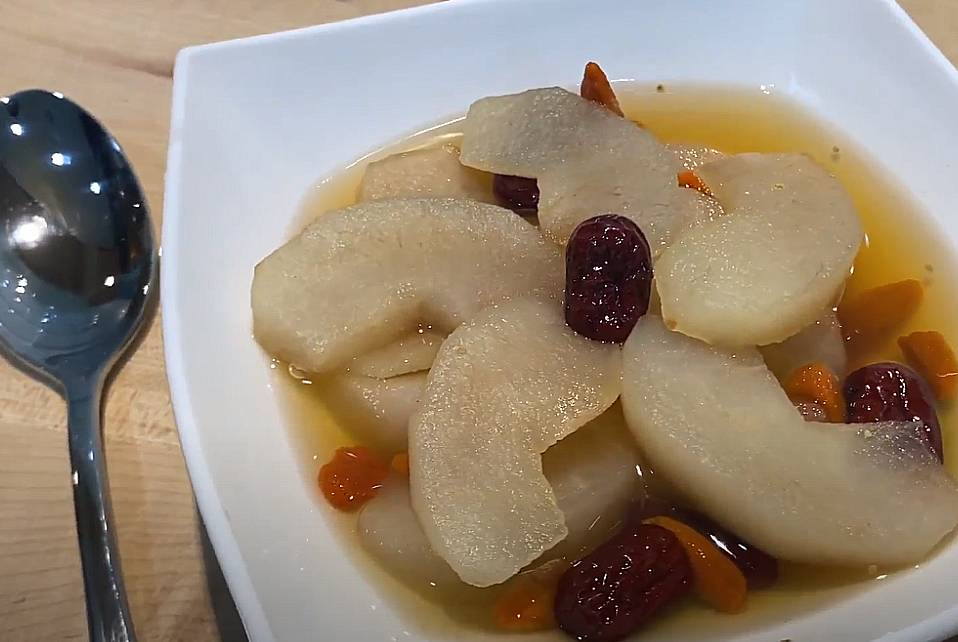 Note:
Different ingredients you can add to this poached pears without wine recipe are:
Black dates, ginger, snow fungus.
Just to suggest some other alternative ingredients, you might substitute stone sugar with crude honey however adding it last when you are prepared to eat them.
It's quite easy to find dried longan, you can head to your local Chinese medicine shops or grocery store to find a fresh, ready pack of dried longan that you can use to substitute the rock sugar or to addon to it. Adjust the amount as needed to control the sweetness level that suits your palate.
Partake in a warm pastry with the family this end of the week while catching up with your beloved shows or playing table games. This poached pears without wine recipe for getting some additional natural products into your eating regimen. Enjoy!
Must pears be ripe to poach?
Indeed, pears that are ready are amazing to poach. Try not to poach pears that are excessively ready or too delicate on the grounds that they won't hold up to cooking too and may separate excessively. If you like the crunchiness then you can try it with a less ripe pear for this poached pears without wine recipe.
Would I be able to poach unripe pears?
Indeed, you can poach unripe pears too. Notwithstanding, it will have a firmer surface.
The unripe pear might fill in as a fresh start for various medicines that benefit from its less-sweet, more vegetable-like characteristics. With a crisper surface and firmer give than riper pears.
What can I top these vanilla poached pears with? 
Regularly, I basically partake in these poached pears as is with the straightforward handcrafted syrup that accompanies the recipe. Yet, you can still try it out with some western flavours. You can finish off them with custom made whipped cream.
Have you made your own? Making genuinely whipped cream is so natural however it tastes astounding! On the off chance that you like, you can finish off them with a scoop of French vanilla frozen yoghurt. Or then again, assuming that you have a sweet tooth, you can add chocolate syrup.
On the off chance that you'd don't really want to top them, why not add dried natural product all things being equal? You can add a small bunch of dried cranberries or raisins when you serve them. Be that as it may, make certain to add them toward the end, not while you're poaching them or they will get delicate and lose their shape.
Step by step instructions to Store Poached Pears
You can store extra poached pears in more than one way. Make specific the pears chilled off totally:
Room temperature – when you anticipate serving the pears inside a day you can leave them at room temperature. Cover the pears with a top or wrap so they don't dry out.
Cooler – you can save them in the refrigerator for something like 4 days. Put them in an airtight food container such as La gourmet Pureglas containers.
Freezer – to keep it longer you can store it in the freezer box. Store the poached pears in a cooler cordial food container including the extra fluids and store for as long as 90 days.
Poached pears truly are a basic sweet dessert to make. Yet, they look shocking when you serve them. That implies it's an incredible dessert for when you're entertaining the crowd. Thus, simply bring these out from the kitchen and let your visitors think you have been in the kitchen for a really long time preparing them.
Head over to our La gourmet home page today and catch those fresh new offers!
More recipes with La gourmet Double Boiler:
Homemade Gula Melaka Kaya