La gourmet – The Highest Quality From The Brand We Trust! – Natural Health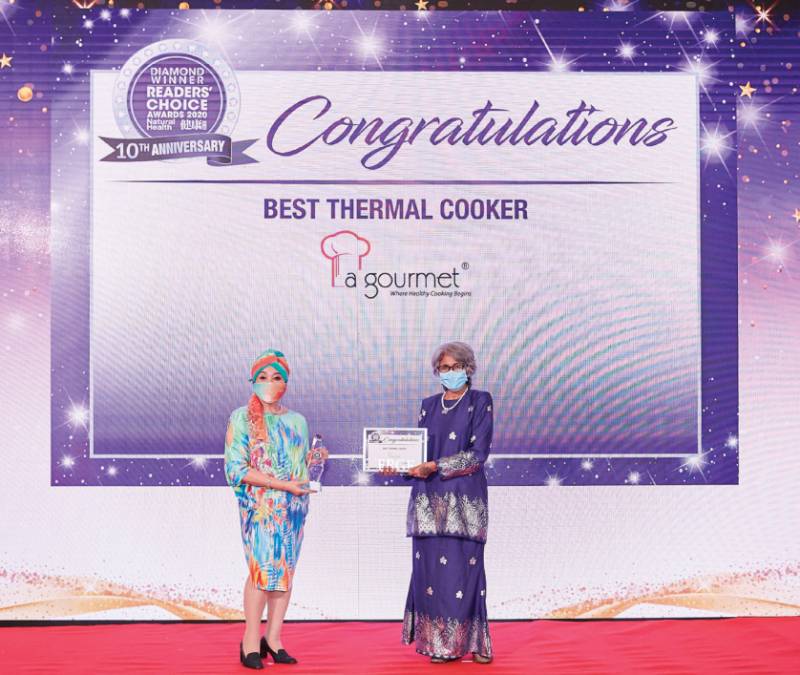 La gourmet is a name that no longer needs to be introduced to us as it is hands down one of the leading brands of kitchen appliances, and an award winning one to boot. The brand's famed Thermal Cooker was first introduced into the Malaysian market about 20 years ago. La gourmet has since re-introduced the improved model of the 2- litre thermal cooker to the market, and it is presented with a more attractive outer body.
Managing Director Ms Jean Yeap recently shared with Natural Health, "My excitement was the new innovation we introduced, with 3 litre and 4.5 litre fully La gourmet The highest quality from the brand we trust!
More important than that is the new technology using "VACUUM" insulation instead of "FOAM" insulation with the older model, but these two new models are fully insulated exactly like the thermal flasks."
Ms Yeap, who loves thermal cookers for the way it provides her so much convenience, went on to say, "As a business lady, I am always busy. But I can, however, still fulfill my role to cook for the family with the help of the thermal cookers.
Thus you can imagine my excitement to share this great "WORK HORSE" to all so they can have their respective careers, and yet their families still have the yummy results of "Mummy's Cooking!" In today's fast-paced life, people hardly have the time (or motivation!) to cook decent meals for themselves or their families.
While agreeing to this statement, Ms Yeap also reminded us that we all still need to eat. "La gourmet realized that problem and tried to come out with solutions to serve the community. This is mainly because La gourmet always advocates home cooked meals as a tool to bond family members together," she stated.
To encourage and assist career mothers to ease their mind that we can do it all, La gourmet introduced the thermal cookers as the answer. All they need is to spend 15 minutes cooking in the inner pot, with the lid closed. Once steam appears from the lid (make sure that you do not open it), transfer the pot into the outer thermal cooker.
Close the upper lid of the thermal cooker, leave it to self-cook, and you can go to work with peace of mind. "The thermal cookers self-cook using the self-contained energy as the insulation and the vacuum provides a thermal environment for it to continue cooking without any external electricity or gas," she explained.
Most people already know that this item, the La gourmet Thermal Cooker is unique, and uses two pots. These two pots consist of the inner pot and the outer pot, which makes up the fully vacuumed thermal cooker.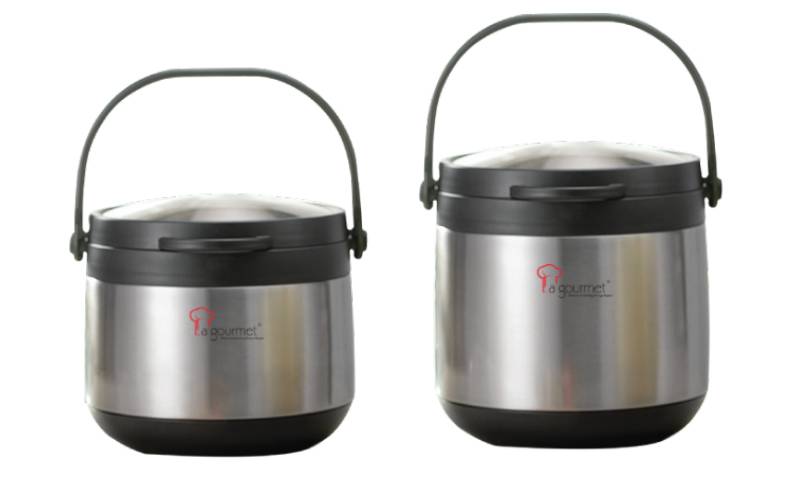 The inner pot is for cooking on all cook stoves for 15 minutes. For foods that typically take longer to cook, such as beans or tough meat, you can cook for up to half an hour. After that, you can transfer it to the thermal cooker.
Once the inner pot is transferred into the thermal cooker, slow cooking through thermal insulation starts. "This is actually the healthiest way of cooking as nutrients are not wasted away, as when you are overheating on a stove.
I would also like for you to keep in mind the following: a) All nutrients from the ingredients are preserved and enhanced through this thermal energy cooking. b) It saves energy and reduces your electricity bill c) The thermal cooker gives you TIME as you don't have to stand and cook.
Once you put the inner pot into a thermal cooker, your job is done as the cooker will start cooking without any need of supervision. You have your time to do other dishes or whatever you want to do." It is clear to see how the Thermal Cooker from La gourmet ties in with the current needs of families to stay healthy and strong, and Ms Yeap was quick to chip in on that statement.
"Home cooking, any way you look at it, is best as you are in control of all that you put in the dishes. You use choice ingredients, quality soy sauce and quality oil to cook your food. You make good decisions to use cookware like the thermal cooker as it cooks your food whilst preserving all the nutrients resulting in healthy cooking and healthy meals for you and your loved ones."
Ms Yeap also pointed out that home-cooked food is not only eating together and strengthening our family bonds, but it also makes us healthier and stronger as they eat foods that we have cooked to perfection. "With the thermal cooker to aid you, you can cook porridge in the night and next morning they have a hearty breakfast instead of sausage and cereals that are not as healthy.
Through the night the thermal cooker does the slow cooking and when you open it the next morning. All you need is to dish out the porridges, it is just warm enough for children to eat before rushing to school," she revealed.
Thermal cookers are very special compared to normal pots because we don't have to stand there to cook from start to finish; we don't have to get all stressed out watching the flame and ensure we're cooking our dish just right with correct timing.
As Ms Yeap explained to us, all that kind of stress is taken out as the thermal cooker is our work horse that does the cooking for us while we relax with the extra time saved. She really meant it when she said that this invaluable kitchen appliance relieves us as it needs no further supervision once we put the inner pot into the thermal cooker.
There are also other cookware products from La gourmet which may complement this item and make up the perfect kitchen cookware set. "We always encourage users to make good decisions by understanding
A) what their needs are;
B) what is their cooking style; and
C) what kind of cookware will serve them best.
With these questions in place, you look for cookware that serves your needs.
As time is very precious to busy mothers, we want cookware that can cook fast, tasty meals and require little supervision. Apart from the thermal cooker, as a busy business lady who loves to cook for my family, my top favorites are the La gourmet Pressure Cooker and the La gourmet Turbo Roaster.
These three items together with the 32cm galactic wok and 28cm galactic frypan will complete my cookware needs for a perfect kitchen." For boiling and cooking soup however, Ms Yeap shared that she would need a La gourmet 24cm classic casserole or the 6L toughened claypot to fulfill her cooking requirement.
Apart from these, she also advises users to look for quality kitchen tools that aid in their cutting, blending and frying. When asked what her advice would be for consumers who are interested in safe, effective ways to serve great meals to their families, with all the nutrients intact, Ms Yeap replied, "My advice is to use thermal cookers to cook the various food, soups, curries, chicken rice, and more as nutrients are preserved within the pot.
Next, roast your food instead of frying it, as that cuts down the use of too much oil. My suggestion is to use a turbo roaster as it can roast to perfection using the oil of the meat without the need to add oil.
Another tip is to use a pressure cooker so that nutrients are preserved for fast cooking. Last but not least, you can steam your food – use your thermal cooker to do the job as it is definitely healthier. "Apart from spending money on organic vegetables, chicken, etc, you must do the research to buy quality cookware at reasonable pricing that does not leach out chemicals whilst you are cooking.
Investing in quality cookware is worth it than to have sickness from cheap cookware that leaches out chemicals, or use items that have not been laboratorytested as safe for food contact.
You'll just end up spending more on doctors' bills. La gourmet understands these concerns and what we give you is the Assurance of safety, Trust and the Guarantees to provide the relevant service if you have issues with the products. So when it comes to cookware and thermal cookers, buy Quality with the Brand you Trust."

Reference: https://naturalhealth.my/naturalhealth2020awards/