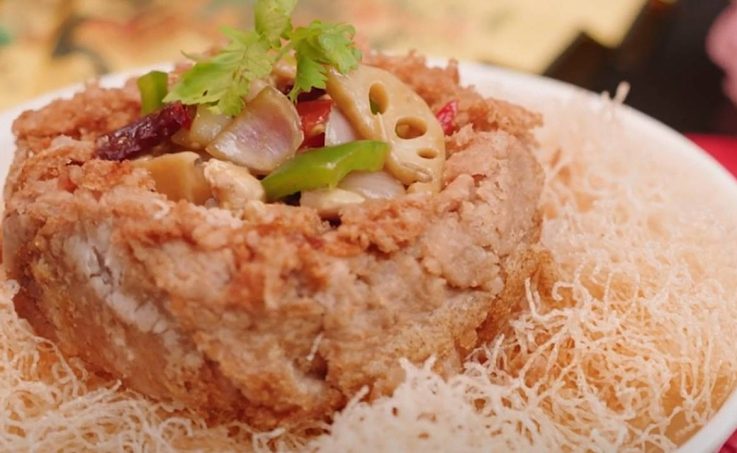 This lovely dish never disappoints particularly when served on a bed of freshly fried rice vermicelli. It is additionally the ideal dish for events like wedding suppers, Chinese New Year and other unique events.
Otherwise called Prosperity Yam Basket or 佛钵 Fatt Putt, this is such a well-known dish that practically all Chinese cafés and Zhi Char stalls will have this on their menu. The uplifting news is, that this Golden Yam Basket is a dish that you can undoubtedly make at home as well.
In this post, we will show you how you can make this auspicious golden yam basket dish.
Ingredients
300g Yam (cut into thin slices)

60g Wheat Starch

90ml Hot Boiling water

30g Shortening

½ tsp Baking Powder

½ tsp 5-Spice Powder

1 tsp Salt

1 tsp Sugar
Filling of the golden yam basket
1 piece deboned Chicken whole leg (cubed)

20g Green Capsicum

20g Red Capsicum

100g Local Lotus Roots (sliced)

3 Dried Chillies (cut into sections)

20g Onion (cubed)
Seasoning
1 tbsp Oyster Sauce

1 tsp Light Sauce

½ tsp. Sugar

A Dash of Pepper

½ tsp Chicken Stock powder

¼ tsp Dark Soy sauce

2 – 3 tbsp. Water
Thickening
Adequate Corn Flour slurry

Dash of Shaoxing Wine
Accompaniment
Directions to make golden yam basket:
To prepare the Yam dough
Steam yam slices until they soften. While yam is being steamed, put wheat starch in a bowl and pour in boiling hot water. Mix with a pair of chopsticks into a paste.

Remove steamed yam into a deep plate. Mash it in the wheat starch paste. Mix in 5-spice powder, baking powder, salt and sugar, and a dash of pepper. Add in shortening. Knead lightly until yam is formed into a dough.

Pat yam dough into a long piece, flatten it and gradually make it into a ring. Chill in the freezer for about 1 hour.

Deep-fry the yam ring in hot oil until golden and crispy. Remove, drain from oil and place on a plate.

Deep-fry rice vermicelli until crispy. Use it as a base for the golden yam basket.

Heat oil and sesame oil and fry dried chillies briefly. Dish out and set aside.

In the same wok, add cubed chicken meat, and sauté briefly.

Add in onion, lotus roots and the rest of the ingredients. Stir in seasoning and toss well to combine. Adjust with cornflour slurry solution and a dash of Shaoxing wine.

Dish out and add to the golden yam basket.
Significant Tips To Make The Perfect Yam Ring – Crispy On The Outside, Soft In The Inside
The pounded yam mixture is cautiously hand-assembled into a ring and deep-fried to a brilliant golden crisp on the outside. Hence, golden yam basket. A decent yam ring should be crispy outwardly simultaneously soft on the inside. It must exhibit the delightful honeycomb strands that encased the ring. Thus, the oil temperature should be perfect to effectively fry the yam ring to desired texture.
Drop a piece of the yam mixture into the oil. In the event that it crumbles, the oil isn't sufficiently hot. Or on the other hand, in the event that it doesn't spread by any stretch, the oil is excessively hot. On the off chance that it floats to the top, the oil is perfect and you can start to profound fry the yam ring. The fried crisp texture on the outside will protect the soft inside of the yam ring and keep it naturally sweet while keeping the oil away.
Likewise, try to utilize a sufficient level of cooking oil to completely submerge yam ring while deep frying. Whenever the sweet potato ring is seared till brilliant brown, drain the oil and put on serving plate while we set up the filling of the yam ring basket.
What is the right size for the yam ring?
There is certainly not a particular size regarding how large or little the yam ring ought to be. However, the two things you likely ought to think about are the number of individuals you are serving, and of most extreme significance to me – the size of the wok, pot or the profound fryer you are utilizing. Go for one with a moderate size so that you won't need too much oil to completely submerge it during the frying process. Being able to get the entire ring completely lowered in the hot oil is generally better than doing the first half and afterwards frying the next half – less time, less problem and less gamble of them breaking during frying.
What is the best thickness of the yam ring?
In my first attempt, the yam ring was unified with a somewhat thicker shape. Not that they are terrible. They really tasted quite good! So relying upon your own preference, the thickness is all dependent upon you. Assuming having it slender is your favourite, ensure that they are slight yet not a lot that they lose their steadiness when shaped into a ring.
How long should the yam basket be left in the ice chest until it's great for cooking?
Making this includes a decent hour of cooling the yam ring to allow the shape to set. Furthermore, the beneficial thing about this? You can begin truly early whenever in the day and just let the yam ring sit in the ice chest until cooking time.
If you're using a deep fryer with a wire basket that effortlessly helps you to bring down the yam ring into the hot oil, deep frying this yam ring can be a very difficult errand. Dropping it into the hot wok of oil is not such a good idea as well as the yam ring could break apart upon impact. So, you may need a sieve to slowly dip it into the cooking oil. Plan ahead to see which works for you. The size of your wok or pot is important too!
Hope these tips will help you make the best golden yam basket.
You may also like:
Longevity noodles
Fish maw soup
Lo mai kai
To get more quality cookware for your cooking adventures, check out our website for amazing offers.