Pressure Cooker Beef Stew Recipe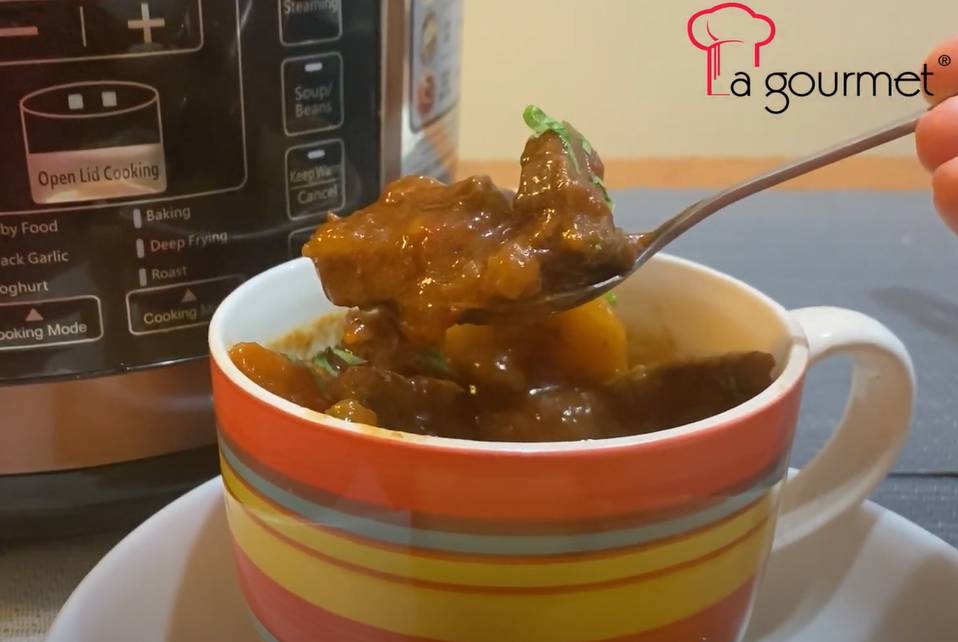 Superbly sweet-smelling, very tasty, and loaded up with such countless treats – delicate pieces of steak, vegies, potatoes, and carrots. This pot has all the good stuff, stewing in that entirely good, rich sauce. This Pressure Cooker Beef Stew is a definitive solace food with pieces of delicate meat that simply dissolve in your mouth. The vegetables and beef are implanted with great flavour as they are cooked under high pressure with a pressure cooker.
What is Beef Stew?
Meat stew is an extremely good soup with a mix of beef and humble vegetables like potatoes, carrots, and onion in a luxuriously seasoned sauce stock. The stew is presure-cooked until the beef is soft and delicate. We add potatoes and vegetables which make this the best stew we've at any point attempted.
Beef stew meat is comprised of pieces that are cut off from arbitrary steaks that either didn't fit in the bundle or closures that were managed for tastefulness. I've even spotted bits of filet mignon and prime rib in my packs and it is sensibly evaluated.
Presently go forward and overcome this exemplary natively cooked beef stew! There's nothing very like twisting up with a bowl of hot, good stew in the colder months.
Ingredients
Beef Chunks 1 kg
Garlic, smashed 2 cloves
Onions, sliced 2 nos
Celery, chopped 2 stalks
Carrot 3 nos
Tomato Paste 2 tsp
Malt drink 150 ml
Canned Diced Tomato 1 can
Salt 2 tsp
Brown Sugar 2 tsp
Potatoes, quateres 4 nos
Thyme Leaf 2 sprigs
Dry Rosemary ½ tsp
Flour 1 tbsp
Water 3 tbsp
Instructions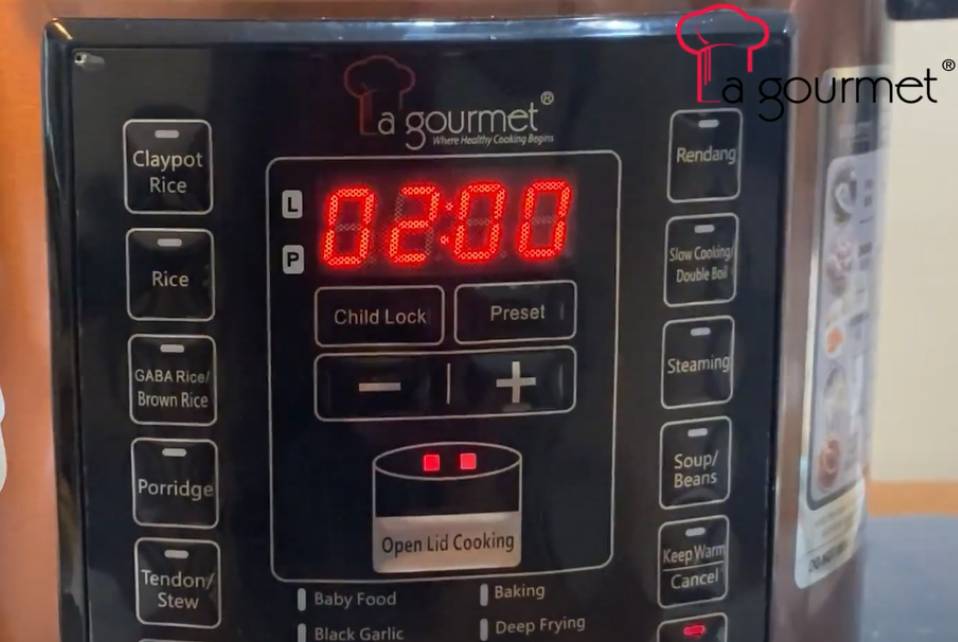 1. Turn in the La gourmet Healthy Electric Pressure Cooker and pick the Open Lid Cooking function.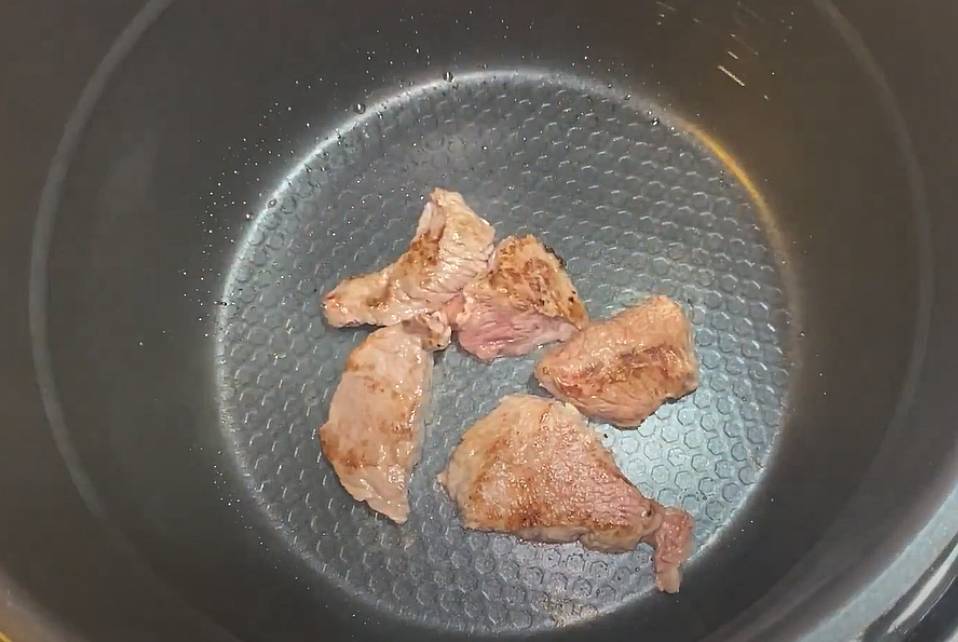 2. Allow inner pot to pre heat, then sear all the beef chunks. Remove and set aside. Searing the meat pieces before you add the stock has such an effect in the flavor you get from the soup. It's actually the main possibility you need to get that delectable caramelization on the meat!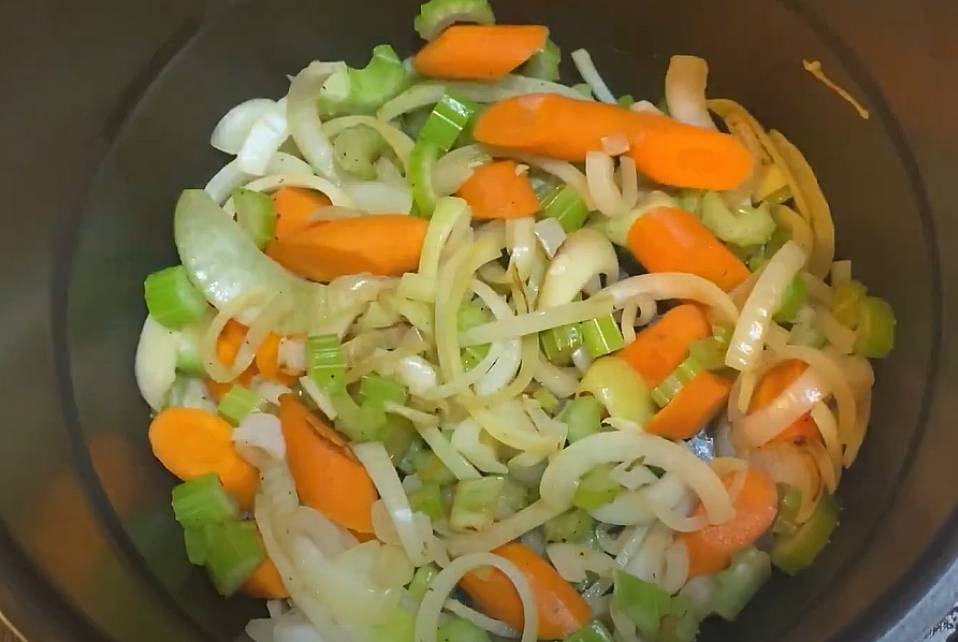 3. Add in crushed garlic and sliced onions. Saute until fragrant, then add in celery and carrots. Saute until vegetables are slightly soft. This pressure cooker beef stew recipe is additionally the ideal method for spending any vegetables you may have to clear up. On the off chance that you have extra cooked potatoes, coated carrots or seared mushrooms, simply hack them up into chunks and toss them in!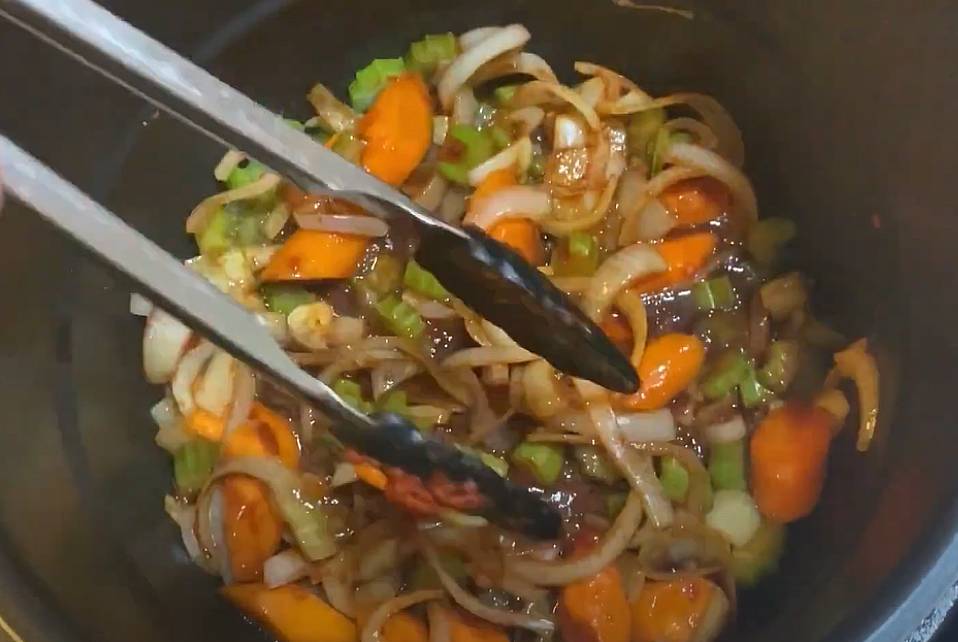 4. Stir in tomato paste, followed by the malt drink. Stir until beef is well incorporated in.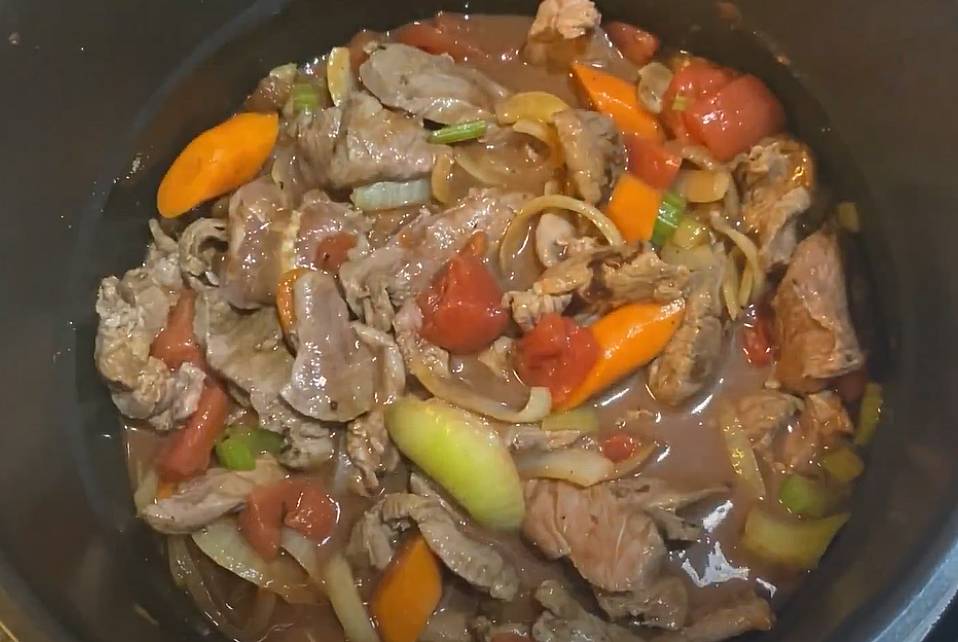 5. Add in canned tomato, then season with salt and brown sugar.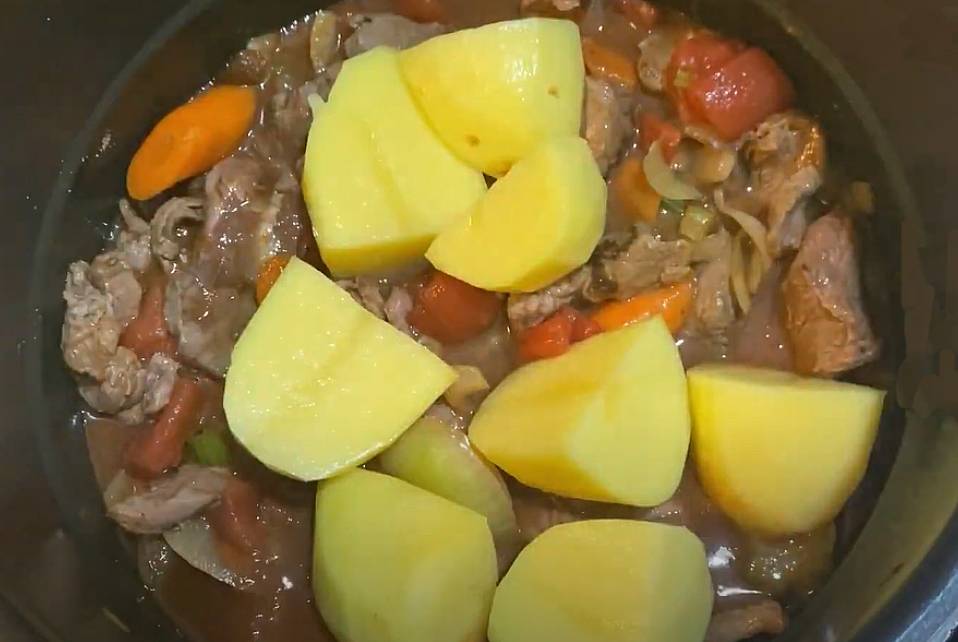 6. Add in potatoes and arrange so it is all submerged in the liquid.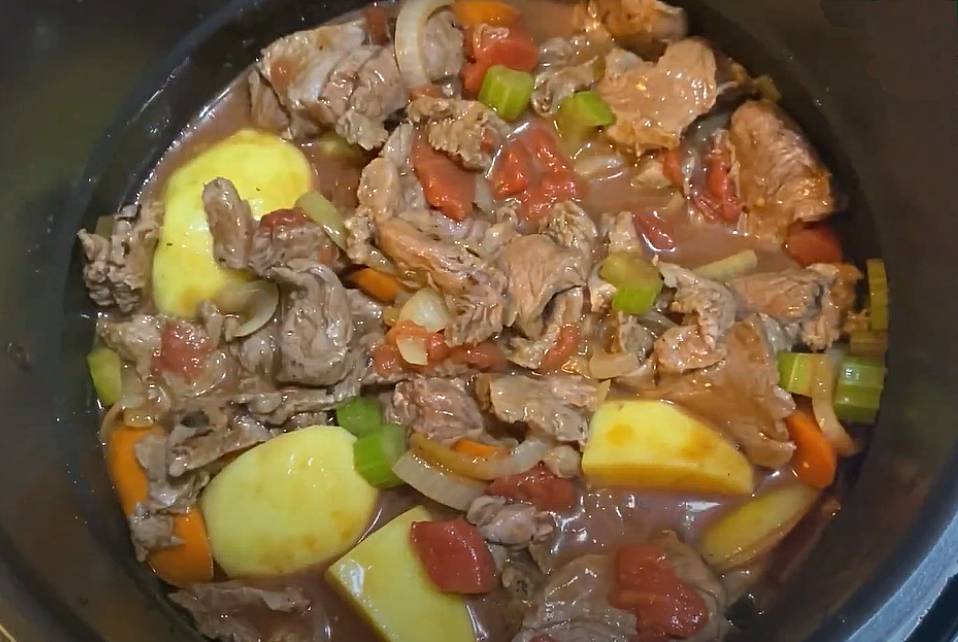 7. Lock the lid of the La gourmet Healthy Electric Pressure Cooker. Press Cancel and choose the Tendon/Stew function.
8. Seal the pressure valve and allow unit to build pressure. Allow beef to cook.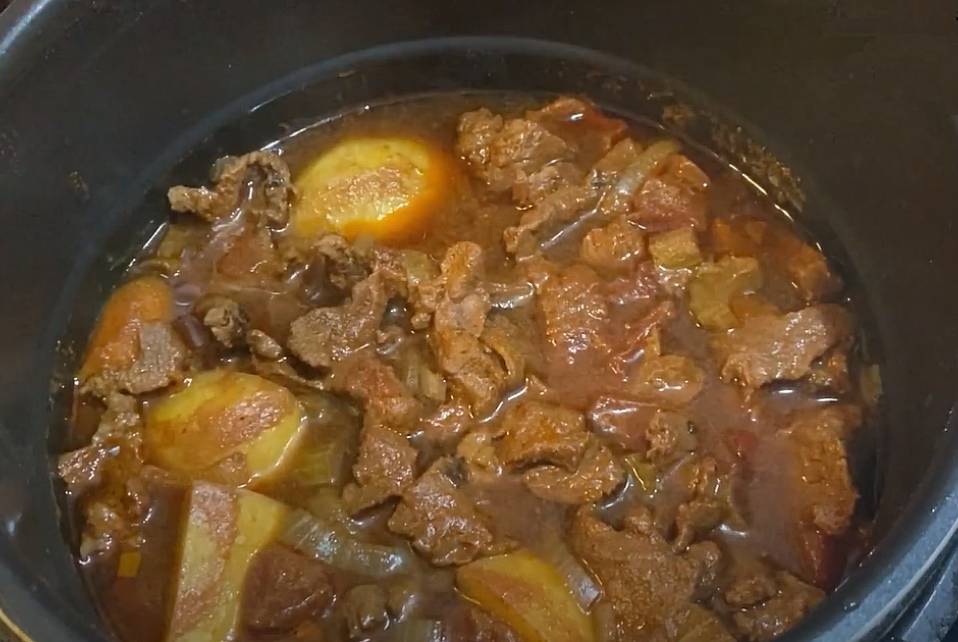 9. Once the LED screen displays "bb" this indicated that the stew is done cooking. Allow unit to naturally pressure release until the pink pressure pin drops.
10. Press Cancel once more and return to Open Lid Cooking function.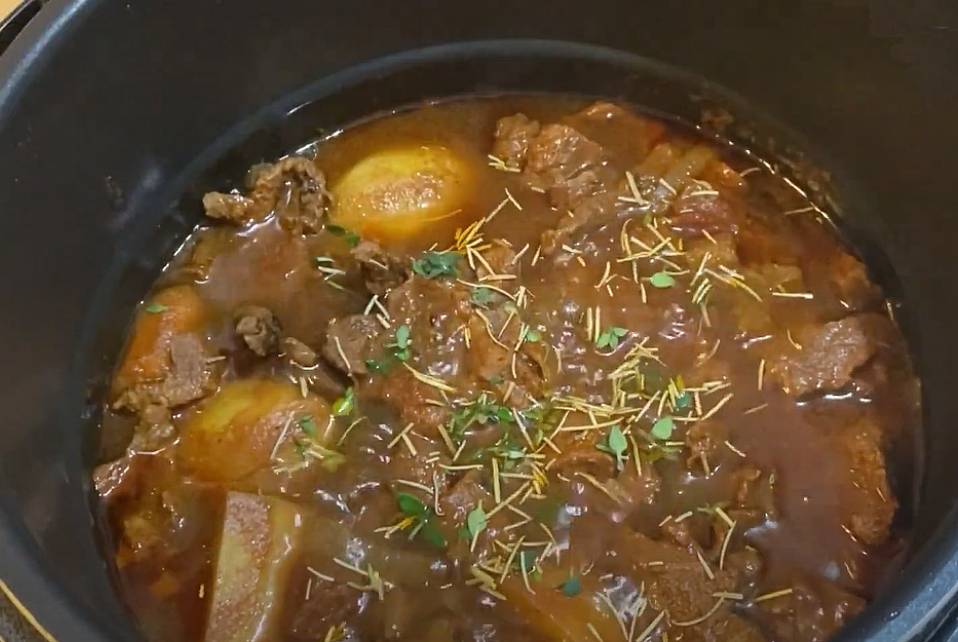 11. Allow this pressure cooker beef stew to foil with the lid open for a bout 5 minutes, then add in the thyme leaves and rosemary.
12. In a small bowl, mix together flour and water until smooth. Beef stew will usually thicken normally because of the starches in the potatoes and the dredging of the meat, however, I generally prefer to thicken it a little bit more.
Stew can be thickened by giving the vegetables a fast squash or you can utilize either flour or cornstarch. My favoured strategy for thickening beef stew (and the technique utilized in this pressure cooker beef stew recipe) is to utilize a cornstarch slurry.
Instructions to Make a Corn Starch Slurry
A slurry is really simple to make! Join equivalent amounts of cornstarch and water and mix. I let you know it was simple!!
Pour this combination a tad at a time into bubbling soup or stew to thicken until you arrive at the wanted consistency. When your stew is thickened, permit it to bubble somewhere around 1-2 minutes to guarantee you cookout any bland flavour.
Whenever left to sit prior to adding to the soup or stew, a slurry will settle inside a few minutes so make certain to give it a mix prior to adding it. I here and there blend the cornstarch in with low sodium (or no sodium) stock rather than water.
13. Pour mixture into the prepared stew, then stir continuously until stew thickens slightly.
14. Season with a little brown sugar and salt if necessary.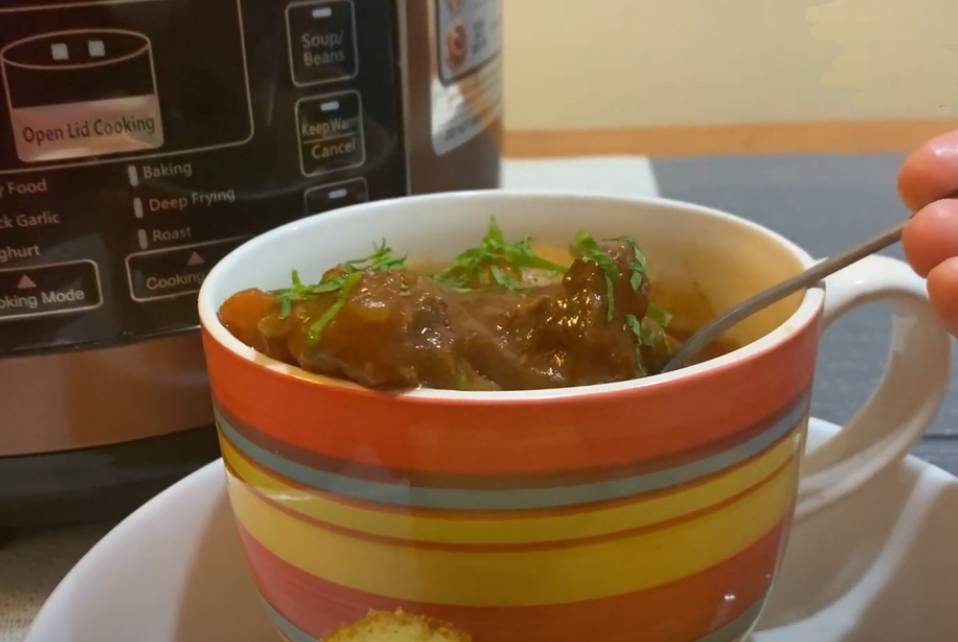 15. The pressure cooker beef stew is ready to be served!
Can You Freeze Beef Stew?
Indeed, you can totally freeze up beef stew! I like to hold up it in cooler packs in single servings parcels so I can take one piece for snacks (or four out for supper)! Thaw out for the time being in the fridge or you can thaw out in the microwave (time will differ dependent on segment size) blending incidentally.
What To Serve With This Pressure Cooker Beef Stew
This pressure cooker beef stew is really wonderful all alone; it is a finished supper! Most Asians would eat it with rice.
If you want to try the western style, you can serve it with bread, roll or even Garlic Crescent Rolls to sop up any stock! I additionally love serving it with pureed potatoes in the lower part of the bowl! Indeed, even only some squashed wafers or saltines are all you truly need.
Like this recipe? Share it with your friends. Don't forget to checkout our La gourmet Malaysia website for more promotions as well!
More pressure cooker recipes:
Chicken Biryani Recipe Malaysia
Oxtail soup
Cinnamon roll
Cornbread